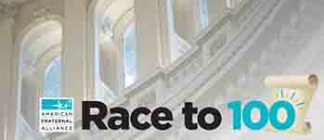 Please take action today to support the American Fraternal Alliance's "Race to 100" initiative to recruit 100 co-sponsors for House Congressional Resolution 19, the "Fraternal Resolution".
As non-profit, tax-exempt organizations, fraternal benefit societies, including Woman's Life, help fill the gaps in government programs by directing financial support and providing hands-on service to stock food pantries, meet medical needs, build playgrounds, provide disaster relief, and so much more. In fact, research has shown that the value of the work done by fraternal benefit societies and their members is more than $3.8 billion per year.
With just a few clicks you can send a pre-written, personalized message to your legislators, let them know you are a member of Woman's Life Insurance Society, and provide them with information about the impact of fraternals in their home state and across the country.
Click here to make a difference!